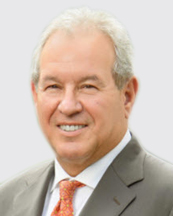 Practice Areas
Criminal Defense
Personal Injury
Joseph Rodney Messina
Joseph Rodney Messina is from Monroe, Louisiana where he attended and graduated from St. Frederick High School. He attended Northeast University in Monroe, Louisiana, where he majored in Science and Kinesiology, with a concentration in health and physical education. While pursuing his undergraduate education, Rodney became an initiated member of Kappa Sigma fraternity. He graduated with a Bachelor of Science degree in 1978.
After receiving his degree, Rodney pursued a career in education at Ouachita High School, where he taught from 1980-1986. After only a few years as an educator, Rodney returned to school to study law. He attended Southern University Law Center in Baton Rouge, Louisiana, and he received his Juris Doctorate in 1990. While in law school, he was a member of Phi Alpha Delta, an international law fraternity.
In 1991, Rodney was fully admitted to not only the Louisiana Bar, but also the Middle, Eastern, and Western United States District Courts of Louisiana. In 1999, he was also admitted to the United States 5th Circuit Court of Appeals. Rodney is a member of the Baton Rouge Bar Association and the American Bar Association, as well as the United States Supreme Court.
In 1991, Rodney opened the Law Office of J. Rodney Messina. As a solo practitioner, Rodney practiced mostly civil litigation, including personal injury and insurance defense. Eventually, Rodney found his love for criminal defense and criminal law. Rodney has tried hundreds of cases from misdemeanors to felonies, including State and Federal jury trials. Rodney has argued before the First Circuit Court of Appeal, the Third Circuit Court of Appeal, the Fourth Circuit Court of Appeal, the Louisiana Supreme Court, and the United States Court of Appeals for the Fifth Circuit. Rodney has also presided as ad hoc judge for Baton Rouge City Court.
Today, Rodney practices Criminal and Personal Injury Law, and he also prides himself in devoting his practice to litigation.
In 2013, Rodney was recognized as Southern University Law Center Distinguished Alumni. He was also recognized as the St. Frederick 2019 Sports Hall of Fame.
Rodney has been married to Jamie Watson Messina since 1976. They have three children and seven grandchildren.